ARE YOU LOOKING FOR A GIFT CARD
EXPERIENCE THE ADVENTURE FROM THE SKIES OVER QUEENSLAND
We make memorable experiences and adventures a reality.
Sharing beautiful places with you, that inspire us and create lasting memories.
So pack your bags, we're going on an adventure.
COME FLY WITH OCEANVIEW HELI
We love showcasing our local region including the Glasshouse Mountains, Bribie Island and Sunshine coast beaches from Caloundra to Noosa through to the beautiful Fraser Island. Why not discover the hinterland filled with boutique wineries, wedding venues and wonderful accommodation options. Explore with us and Experience the Adventure today.
Oceanview helicopters is the Sunshine Coasts premier helicopter tourism company. We are a passionate, family owned local business offering a range of services from scenic flight & winery tours to aerial photography, charter and airwork. We also specialise in heli wedding packages and depart from our base located at Caloundra airport.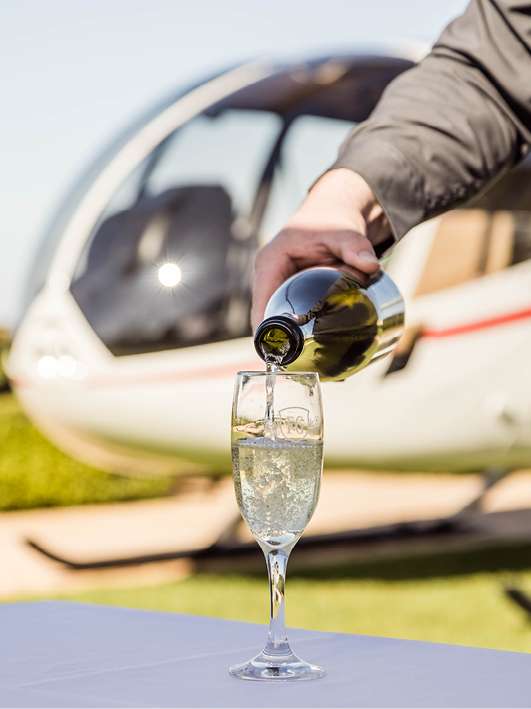 EXPLORE | EXPERIENCE | ADVENTURE
Oceanview Helicopters is a premier helicopter tour and charter operator offering helicopter services from our Caloundra base on the Sunshine Coast. We are in the business of providing bespoke helicopter experiences and services to all areas of South East Qld, with most destinations only a short flight away. We pride ourselves on providing the ultimate helicopter EXPERIENCE.
Our small dedicated team is passionate, professional and friendly, going above and beyond to make your time with us enjoyable, memorable and totally amazing.  All of our aircraft are owned by us and locally maintained to the highest safety levels.
Fitted out in corporate configuration including leather seats and high end Bose headsets, our aircraft are meticulously maintained & serviced to the highest standards.
Airport transfers
A-B Transfers
Weddings
Private / Corporate Charters
Joyflights / Events
Staff rewards and Incentives
Aerial Photography – still / motion / social
Low-level filming
Property Developer inspections / appraisals
Aerial Surveying – Pipeline inspection / Geochemical / Sampling
Aerial Spotting – Flood, Fauna, Flora
Powerline Inspection
FREQUENTLY ASKED QUESTIONS
Here's some tips and safety info to help answer a few of your questions prior to or during your helicopter flight.
When should I arrive...
We recommend that you arrive at our departure point at least 10 minutes prior to your scheduled departure time, especially if your charter itinerary is time critical. The helicopter flight times indicated may vary subject to weather conditions.
What to bring...
Sunglasses, Jumper (for the cooler months), camera for those spectacular snapshots and of course don't forget your sense of adventure.
Passenger & Baggage Weights...
To ensure the helicopter is loaded within weight and balance limitations and for fuel planning purposes we require your individual passenger weights. Helicopters, like most aircraft, are generally designed to have a trade off between passengers, bags and the amount of fuel we need to carry.
Sometimes a helicopter is unable to carry its full seating capacity due to fuel requirements and weight limitations. Standard adult passenger weights are calculated at 90kg for males and 70kg for females. Particularly if heavier than these weights, the flight may have to be limited to fewer passengers. The max single passenger weight for our Robinson R44 helicopter is 130kg and maximum combined passenger weight of 260kg.
Particularly in our helicopters, baggage space is very limited. If you need to take baggage, please notify us of the expected weight, size and qty of bags. This will help avoid any inconvenience on the day, as we want to make your helicopter flight as easy and convenient as possible.
Helicopter Fuel Stops...
Sometimes we need to make a stop for fuel en route. This would generally add about 20 minutes to your flight. It gives you the opportunity to get out and stretch your legs. If the helicopter is heavily loaded, more fuel stops may be required than if a lighter load were carried.
Helicopter Safety...
Safety around helicopters is extremely important, particularly when the blades are turning. It is really important that you pay close attention to the pilot or flight crew when they are assisting you in and out of the chopper, and when briefing you on the helicopters safety features and procedures.
Additional Information...
There is no smoking permitted on or around aircraft. Dangerous goods (such as aerosols, paint, matches, gas stoves, firearms/ammunition etc ) are normally not permitted onboard aircraft and must be declared to your pilot or crew prior to loading/boarding to ensure the safety of your flight. For further information, please contact our team who would be more than happy to discuss any issues with you to ensure the safety and efficiency of your flight. For aerial photography it is best to have clear skies or overcast conditions so shadows don't get in your shot with a maximum wind of 20kts.
Payment Options...
We accept Visa, MasterCard, Direct deposit & Cash
Subscribe to Oceanview Heli to receive your Free Brochure.